What Is It?
The Videos Make Your Own Diagnostic Equipment came about, from the need of many viewers to be able to make and maintain fairly simple diagnostic gadgets. It is meant to show and guide the professional technician and DIY mechanic on how to make these gadgets. In many cases, due to the nature of the equipment industry, it is very expensive or virtually impossible to get these tools. The reason being is that often times, tool makers don't see a profit in making these simple but effective gadgets.
---
Scan-1 Scope-1 PDF-Books Android APPs YouTube DVD-Videos SOFTWARE Printed-Books Kindle eBooks Mr. BOB DLC Español Sitemap
---
Why Is So Difficult to Get These Gadgets...
Most, if not all of these tools, are invaluable in diagnosing modern automotive systems. You can estimate that having one of these tools, at the right time, when needed, will cut your diagnostic time by at least 50%. Of course, knowing how to use it is also important. However, by definition if you've already studied how the gadget works, how to build it, and also ended up building it yourself, you've already passed the learning curve and chances are you'll know how to use it. At the very least, viewing this videos, will put you in a much better position to also asses diagnostic issues and on the use of other important tools of automotive diagnostics.
Here's What you Get...

(NOTE: Your E-mail Download for the Video(s) will be sent to your after purchase, in about 1 to 10 minutes.

All videos are in HD (high definition) MP4-H264 codex, which is the same standard as Blue-Ray.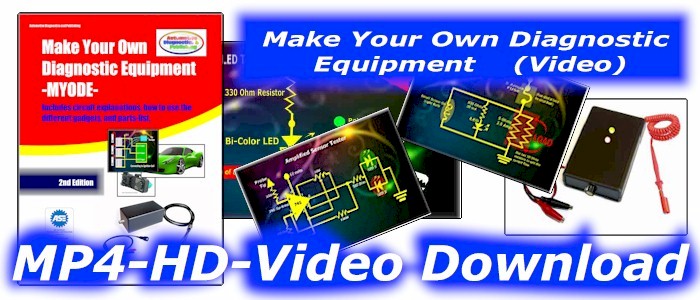 Click the Desired Single VIDEO-TITLE Below

About MYODE-Videos operate on the following: (All versions of Windows XP, Vista, 7 and 8)
These videos are playable on your computer, be it a Windows PC or a Laptop. The video files are individual, which allows you to just play what you need or play the entire collection, as seen here. In addition, if your computer has a connection to HDMI/TV and most do, then you can play the videos on your TV. Some Windows tablets also have an HDMI or TV output.

All videos are in HD (high definition) MP4-H264 codex, which is the same standard as Blue-Ray.