---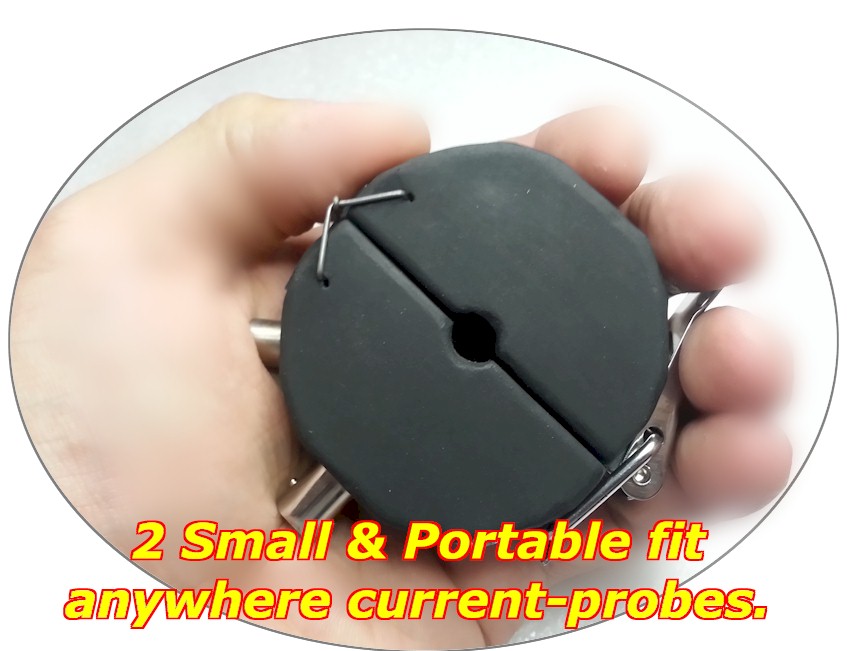 This is a unique add-on to your own scope and part of the Auto Scope 1. This is in essence a very sensitive Clamp-On AMp Probe, also called current probe. Not as sensitive as the FUSE-PEEKER above, but the difference is that you can get and use this probe in sets of two or more. The FUSE-PEEKER goes in place of a fuse, so inherently only makes sense to use one. However, the doughnut can be used in multiples. Here's an example, You have a 4 cylinder engine and want to get a Voltage and Current signal. You also have a basic 2 channel scope. So, you set channel-1 to read voltage with the leads and channel-2 to the doughnut. Then you're set and there's a lot you can do with this setup (It's all included in the Doughnut Manual). Also, if you have more channels, like an 8 channel scope then you can ready voltage and current for all 4 cylinders at the same time. This works the same for ignition coils and solenoids. This is truly the most cost effective and accurate way to do a voltage/current diagnostic using your own scope or the Auto Scope 1.
---

This secondary ignition probe comes complete with internal attenuation filter circuitry (nothing extra to buy). It is meant for your own Scope or the Scope 1. Have you seen those cheap clip-like secondary probes? This little probe has nothing to do with that. It is sensitive, protects your equipment, easy to use, rugged, has a BNC connector and comes with a plastic case, cables and BNC-to-Banana adapter. Meant to be used with your own Scope or the Auto Scope 1. Encased in tough epoxy makes for the toughest secondary probe in the industry. Use it with the included adapters for COP and DIS ignition systems, as well as the older distributor ignition. With the Automotive Ignition Probe you're set to do misfire detection and diagnostics.
---

The automotive compression transducer probe can be used with your own Scope or the Auto Scope 1. So, what is it? It is the toughest compression transducer probe in the industry. It is not a pressure sensor, but a transducer. What's a transducer? A transducer measures dynamic or moving pressure, as when you do a compression test. Gauges are ok for static maximum compression, but not for engine mechanical analysis. The compression transducer probe tells you the details, like valve opening and closing, both intake and exhaust, cylinder pressure and everything related to the engine mechanical. It outputs a voltage signal with all the mechanical operating signatures. It includes a plastic case, cables, BNC connector and BNC-to-Banana adapter. It also comes with all the adapter hoses for different engine spark-plug sizes. Be ready for any and all mechanical analysis.
---


The WristScope is a "To the Point" handheld oscilloscope. It is meant to just, connect and forget. No settings are needed to operate. Have ever found yourself under the car, at the engine bay trying to determine if a CRANK, CAM, or Wheel-Speed sensor is outputting a SIGNAL? Well, this is it. Version 3.5-up now includes a PWM-1 & PWM-2 outputs, so you can also control other modules like, fuel-pump or cooling fan motor modules. The PWM signal is outputted right through the Channel wire leads.
Our Software for Auto Diagnostic and Repair are the industry's leading Guided Help in Fixing your car. They cover OBD2 guided repair software programs, SRS Ligh Airbag, Automotive transmissions, HVAC Auto Repair, Engine No Start, and OBD2 Scanner Diagnostics with the Scan-1 System. That's just some of what we offer in this page. We also have here secure purchasing and you get a download after purchase. The whole process for purchasing our software programs is fast and safe
---